Intensive Skin Treatment Candle
Throw: Strong
Notes: Delicious bouquet of English lavender, sweet basil, and fresh jasmine.
Room Recommendation: Bedroom
Price: £36.00/$45.84
A spa treatment in a white and gold vessel, Neom's Tranquillity Intensive Skin Treatment Candle relaxes your mind and moisturizes your skin all at once. Pairing the lavender scent with the functionality of its Latin name, lavare, which literally means "to wash," Neom captures revitalization with this candle. After a refreshing shower or meditative bath, this lavender-scented candle works to wash away my stress, leaving my mind open to the wonder of dreams.
I love this candle because it offers a complete relaxation experience for the home—simply light the wick and enjoy the relaxing, pain-relieving aroma as you clear your mind and prepare for bed. Then enjoy the smooth, silky embrace of the candle's melted wax as it soaks into your skin, further relaxing mind and body. This candle truly has a soporific effect—it's a safe and natural way to help cure insomnia.
Like all of Neom's fantastic fragrances made with 100% essential oils, this candle burns evenly and smoothly—watching the wax liquefy so effortlessly feels like a meditation unto itself. I like to imagine wandering through a field of lavender, breathing in the flowers' soothing scent before falling asleep in the shade. This candle makes me feel so at peace that it has become part of my nightly regimen, relaxing each of my senses with its calming bouquet as I prepare for sleep. 
Neom's Intensive Skin Treatment Candle is presented in a truly head-turning vessel. The dripping gold detail on the beaker-style holder is both eye-catching and inspiring. Neom's designers are the embodiment of innovation—the gold drip detail makes it clear that the vessel should be tipped to pour the wax onto your skin for moisturizing and stress relief.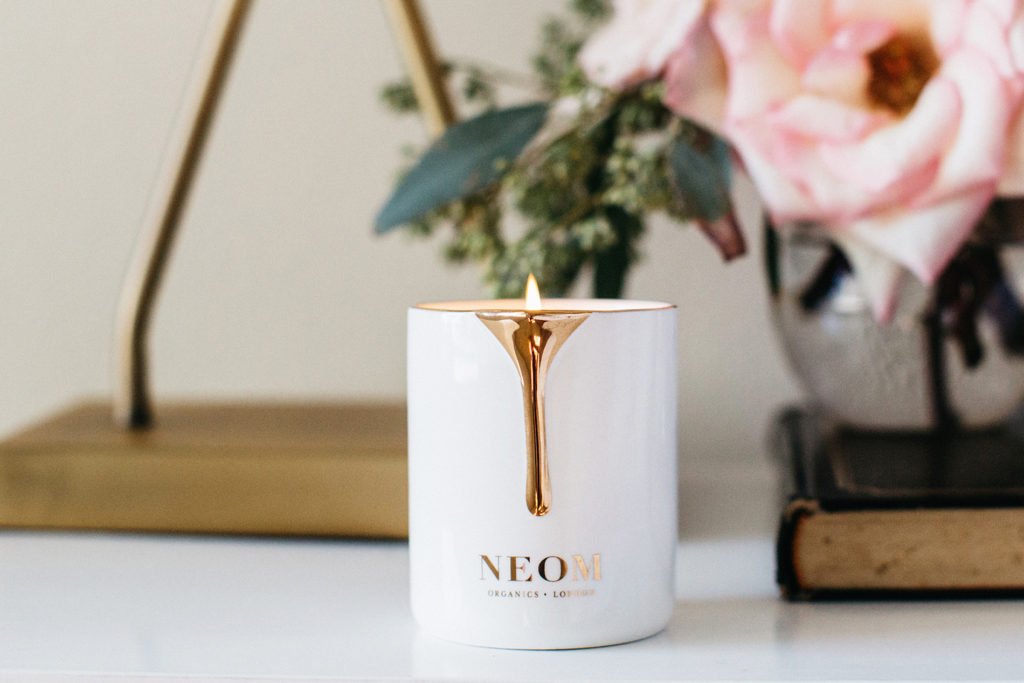 This candle offers the fabulous gift of tranquility—an excellent choice for bridesmaid, birthday, and mother's day presents—or as a relaxing treat for yourself!
Directions
Light the wick and let it burn for at least 30 mins until it melts into a luxurious oil. Extinguish the candle and allow to cool for 2 mins. The soy wax blend has been specially designed to warm to the ideal temperature for use on the skin.
Pour the perfectly warmed wax onto any part of the body that needs softening and moisturizing. Rub in gently and relax.
I love using it on my hands, legs, and feet after a shower or bath. It's perfect for typically dry areas like elbows, knees, and the soles of the feet.
Photography | Martina Micko