Holidays are a time for gatherings and events, and chances are you'll find yourself hosting at least one function between now and the end of the year. Something that you might not know about entertaining is that luxury candles are the perfect way to help set the mood for your guests!
Playing host (or hostess) may sometimes feel more like a burden, but with the right candle fragrance, you'll pull it off effortlessly.
The key to a successful event begins and ends with the mood that's set. Scented luxury candles may seem like a minor detail, but they can actually play a critical role in triggering the right emotions in your guests. The connection between scent, memory, and emotion is closer than you may think: a comforting fragrance can immediately set guests at ease and establish a relaxed and enjoyable ambiance. This knowledge can give you the edge over your competition, from your annoyingly perfect sister-in-law to the friend turned professional event planner, to the snooty neighbor down the street!
Whether you're hosting a formal dinner for your extended family, planning a company holiday party, or just gathering together with a few friends, my entertaining tips have got you covered!
Family Dinner
From Thanksgiving to Hanukkah and everything in between, your family is likely to gather in the dining room. You should therefore pick scents that work well around food—such as spices or aromas associated with baking that will complement rather than clash with the meal you're serving.
When it comes to the holidays, scents such as pumpkin, cinnamon, and apple immediately come to mind. Food scents work great with any celebration centered around a meal—here are a few of my favorites:
Fitting for Thanksgiving, this delicious candle is infused with wild pumpkin, cardamom, spicy Masala chai, cinnamon, and ginger, instilling an embracing ambiance for a memorable family dinner.
The herb thyme is used in many a dish. With its delicate yet penetrating fragrance, it'll be the perfect complement to an evening of hearty holiday dishes and good cheer. Its 50-hour burn time will ensure that your happy holiday memories last a life-thyme.
Green tomatoes have a certain freshness about them. Liven up the family dinner with this invigorating candle that'll tantalize your guests' appetite and set the perfect mood.
Company Holiday Party
Company holiday parties are notorious for being large, chaotic events with many different personalities all in one room. They're usually held in an event space such as a hotel ballroom, banquet hall, or private room at a restaurant or club. Luxury candles to the rescue—they will help make this unfamiliar rented space more inviting and comfortable.
Company holiday parties can go one of two ways: they're either awesome or a total disaster. Aim for the former by lighting candles that are neutral and calming, setting a celebratory yet harmonious vibe to avoid any office drama and ensure that a good time is had by all. Vanilla, fruity, or citrus fragrances will work wonders for this type of event. I recommend:
This refreshing citrus scent will help lighten the mood and may even inspire warm feelings among coworkers. Careful, you might just find yourself getting along with Dave from Accounting!
This warm, layered fragrance elegantly evokes a calm, harmonious atmosphere, combining notes of peach, plum, violet, patchouli, and vanilla.
Casual Gathering with Friends
Planning a cozy night in with a few good friends? With your guests gathered in the living room around the cheerful glow of a fire, burn an earthy or woodsy fragrance to further enhance this inviting scene. You'll surely set the right mood for a relaxed, low-key time with some of your favorite people. Two of my top picks are:
Bring the outdoors inside with Le Roi Sapin's woody, smooth bouquet. The piny aroma strikes just the right blend of sweet and earthy.
Named after the word for "night" in Danish and Norwegian, Skandinavisk's full-bodied Nat conjures up late evenings of quiet reflection at the country house, surrounded by fir trees and the glimmer of moonlight mirroring the neighboring lake.
New Year's Eve Party
Ringing in the New Year is all about glitz and glam, so make sure your candles don't disappoint! Great packaging is a must for a classy New Year's Eve party: vessels with a little sparkle in classic metallic shades like gold or silver are a great choice. For a party that is sure to be packed, choose a strong, multi-layered fragrance that will make its presence felt through the crowd. Look for sophisticated, complex scents with a little edge. I love:
Encased in a clear glass vessel dotted with silver sparkles, this glamorous candle offers a unique bouquet of pine, myrrh, and lime peel that will set a chic holiday tone. Its name says it all, spreading peace as its fragrance penetrates the room.
Sophistication at its peak. Succulent white cranberry blends effortlessly with earthy fig leaf and bubbly pink grapefruit, offering a bright, intoxicating scent. With silver and gold squares etched into a delicate glass vessel, this candle will bring an unrivaled level of beauty and elegance to the party.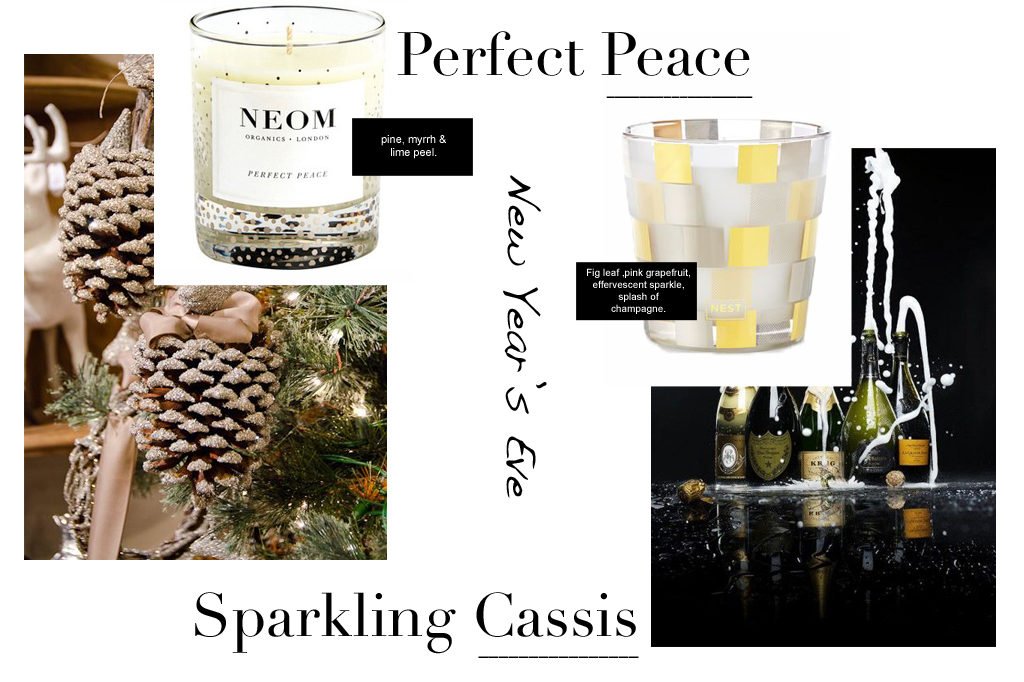 Holiday Entertaining: It's in the Little Things
Candles can have a much bigger impact on the festivities than simply bringing light to the room. Whatever mood you're going for, luxury candles are the perfect tool that will leave a lasting impression on your guests.
Stay tuned for the launch of my gift shop later this week… It will feature some of my favorite candles, hand-picked, styled, and elegantly boxed by yours truly—just in time for the holidays!
What are some of your favorite holiday scents? Share your top picks in the comments below. You may just find some of your favorites in my gift shop!