With all the craziness of 2020, we still have so much to be thankful for. Although a full-blown Thanksgiving dinner with lots of family and friends might not be an option (thanks, COVID), you can still throw a little something for yourself or immediate family. Ever considered pairing wine and candles for Thanksgiving? It's one of my favorite ways to set a festive mood and keep the holidays special.
For this post, I've partnered with Jordan Winery and Drop It Wine. I love their products and want to share them with you. If you follow me on Instagram, keep an eye out for a special surprise!
But first… candles!
Wine and Candles for Thanksgiving: Creating the Perfect Table Setting
I think we can all agree that the meal is the focal point of the celebration. We might be keeping things small this year, but an Insta-worthy table display is a must whether you're dining alone, with family, or having a virtual get-together. To create the perfect table setting, I have 4 simple tips… starting with candles for Thanksgiving, of course.
1. Creating a Beautiful Ambiance with Tapered Candles
Tapered candles for Thanksgiving, why not?! I love tapered candles. I always have them and they're easy to find. They're super simple yet sophisticated too. Your table setting is instantly upgraded whether you light 2 or 10! Personally, I suggest using unscented tapered candles on the dinner table so as to not affect the palate. Burning fragrant candles can affect the taste of the food, and we're not trying to mess with family recipes here.
At the dinner table, I prefer to select candles based on their visual appeal. This year, you'll find mustard-colored tapered candles across the table.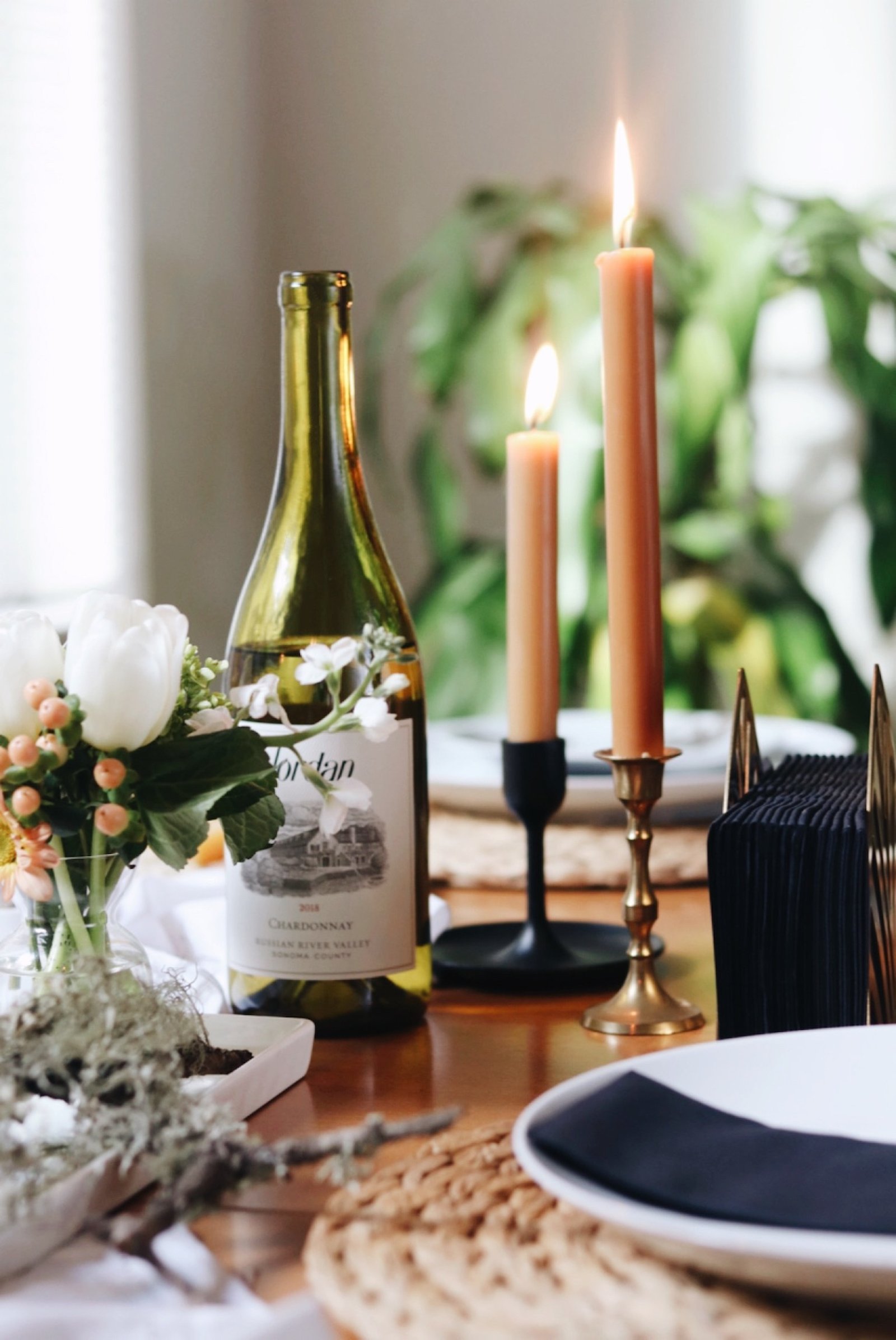 2. Delicious Wine
When inviting people over, it's always good to have options – you know, give the people what they want. So it helps to have both red and white wine at the dinner table. Jordan Winery has an amazing 2016 Jordan Alexander Valley Cabernet Sauvignon and a 2018 Jordan Russian River Valley Chardonnay which just so happen to be part of their Jordan Signature Trio Collection Gift Box and also includes the 2019 Jordan Estate Extra Virgin Olive Oil. This trio makes a great gift and is the perfect item to bring for your host if you're a visitor yourself.
If you're like me and you haven't been able to enjoy a glass of wine in years because you get a headache three sips in, you and your guests are going to love these drops from Drop it Wine. Used in red, white, or sparkling wines, Drop It® Original drops prevent the headaches. Simply add a few drops (depending on your sensitivity) to your glass (or entire bottle), let it sit for a bit and enjoy your wine – headache free! I swear by these drops. Did I mention that they're made from all-natural, FDA-approved ingredients?
3. Simple Florals
For this time of year, I love using branches and moss. These are things you can find in your garden. No need to get fancy with it, keep it simple (and on budget). If you like, pick up a bouquet of flowers for a little pop of color and mix it in with your garden finds and voilà! You have the perfect floral arrangement without too much effort. When pairing florals and candles, I recommend matching your flowers or greenery with your tapered candles. Branches and moss with mustard-colored tapered candles – love it!
4. No-Effort Cheese Platter
I love a tasty cheese platter whether I'm devouring it whole on my own (don't judge) or sharing it with friends and family. I always make a cheese platter when entertaining. It's great to nibble on as a starter, it can have a variety of tastes and textures, and it's an easy way to satisfy everyone's needs as they wait for the main course.
Keep it Small, Simple, and Sophisticated
With everything going on, I believe that Thanksgiving 2020 should be about putting in as little effort as possible and really enjoying the spirit of the holidays, which is gratitude. Keeping things small (this does not apply to your portions – dig in!), simple, and sophisticated puts emphasis on what's really important: family, health, and happiness.