As a trained visual merchandiser and lifelong fashion aficionado, I find myself constantly noticing the connections between design and candles. It turns out that those connections are no coincidence: the relationship between design and luxury candles runs quite deep!
From fashion icon Bella Freud's candle line to Jonathan Adler's foray into the home fragrance market, here I briefly explore the many ties between the design industry and luxury candle creation.
Bella Freud
A fashion designer who has developed her luxury candle brand as part of her clothing boutique, Bella Freud is the epitome of the designer turned perfumer. The great granddaughter of famed psychotherapist Sigmund Freud, Bella began her design career with Vivienne Westwood before going solo in the 1980s. Her first clothing line debuted in 1990 and, soon after, she attained international recognition with her receipt of the Most Innovative Designer title at the London Fashion Awards.
Her taste for design transferred seamlessly to her luxury candles, whose labels might be described as "cheeky." Often featuring a cartoonish dog logo, Bella Freud's candle labels are perfectly imperfect with slightly messy, handwritten labels. Her candles themselves are just as distinctive and fun—check out my recent review of her Signature scent. 
Jonathan Adler
Perhaps best known as a celebrity judge for the interior design competition and reality show Top Design, Jonathan Adler's success as a designer came almost simultaneously with the popularity of luxury candles in the early 1990s. A modern-day Renaissance man, Adler is internationally renowned for his pottery and writing, as well as his designs for both fashion and the home.
Adler now has his own popular luxury candle line, which clearly reflects his eye for design. His candles feature bright colors and vivid scents and come packaged in colorful boxes with adorable interior designs. They feel like birthday candles for grown ups!
Diptyque's Christiane Gautrot
Diptyque's connection to the visual arts is as apparent as the brand's name itself—the word "diptyque," or diptych in English, refers to an artistic piece that spans across two panels. Each of Diptyque's founders began as artists, with Desmond Knox-Leet working as a painter, Yves Coueslan acting as a theatre designer and director, and Christiane Gautrot employed as an interior designer.
It was Christiane and Desmond's flair for discovering the truly fashionable and chic that became the "artistic soul" of the brand. The company's familiar ovular logo draws upon its founders' aesthetic tendencies—it was developed from a medallion-like pattern on one of the trio's favorite Prétorien fabrics, itself designed by Desmond. Each of Diptyque's products bares the iconic design today, reminding candle enthusiasts of the artistry that led to the brand's unique and gorgeous scents.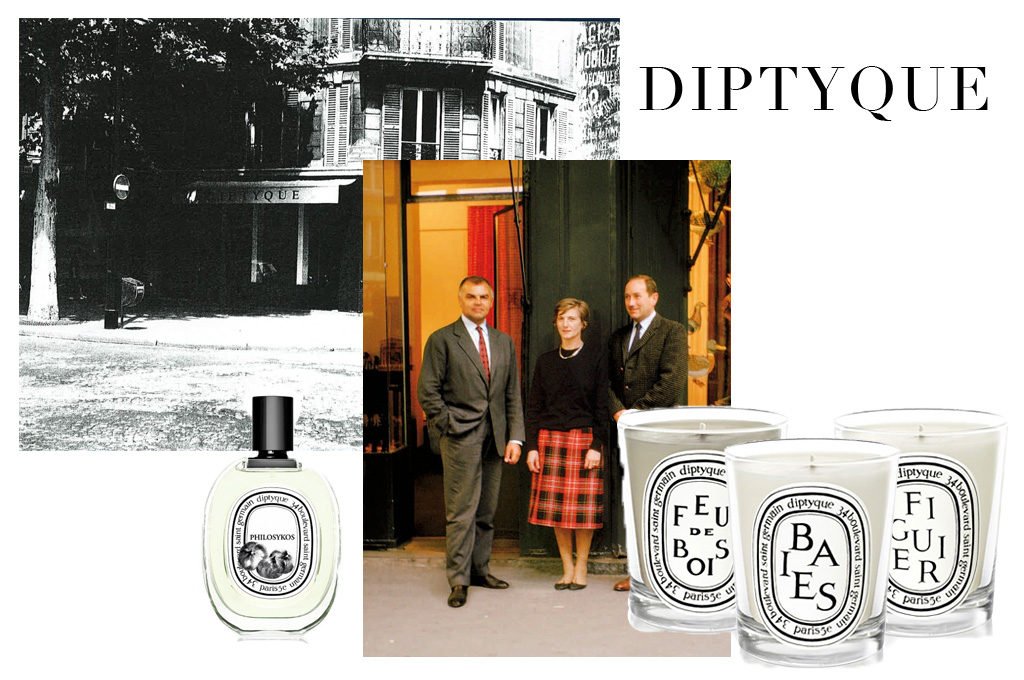 They say that great things come in small packages but, if these stunning luxury candles' logos, boxes, and holders teach me anything, it's that great fragrances are beautiful inside and out!
Consider placing a luxury candle in your space to spruce up a room and add some flavor to your home or office.
 Photos from: Bellafreud.com, Diptyque.com, Jonathanadler.com, telegraph.co.uk, wikipedia.org, Bloomingdales.com