New York is one of my favorite cities in the world, I love the hustle and bustle of Manhattan—it always gets my heart racing! There are so many great places to eat and shop, with art pieces virtually everywhere I look.
Whenever I'm in town, there's one place in particular that I always make sure to visit: Cire Trudon
As gorgeous and memorable as this iconic luxury candle brand is in itself, Cire Trudon's New York store beautifully melds the chic décor of Rococo Paris with the Nolita neighborhood's classic New York vibe. A perfect representation of this luxury European brand that has made such a name for itself blending fabulous scents in breathtaking and original ways, this store is a must-see if you ever visit NYC.
Cire Trudon's Long History
One of the oldest candle companies in existence today, Cire Trudon (which translates to "Wax of the Trudon Family") has been around since 1643. The brand gained fame as the preferred chandler of none other than Queen Marie Antoinette herself! With candles inspired by such historic women as Joséphine Bonaparte, Madame de Pompadour, and Louis XIV's mistress, Louise de la Vallière, this brand has built a reputation around its ability to capture the smart, sophisticated, and sensual feminine essence.
From a small shop on the world-famous rue Saint-Honoré in Paris, Cire Trudon has come to set the global standards for luxury home fragrances. They now have three Paris-based stores, as well as a shop in London, and their flagship store in the Americas, situated in metropolitan NYC.
Walking Through Nolita
While Cire Trudon has long been one of my favorite brands, its New York store truly demonstrates the company's dedication to creating beauty—the store itself is as breathtaking and ethereal as the brand's candles. Tucked away in the Nolita neighborhood where celebrities such as Gabriel Byrne, John Mayer, and the late David Bowie have lived, Cire Trudon sits on a cute little street, surrounded by other small shops and upscale boutiques.
Every time I walk down Elizabeth Street, taking in the classic 19th century architecture, I'm literally able to follow my nose to the Cire Trudon store. A beautiful aroma suddenly begins seeping into my senses—a tantalizing fragrance that comes from candles placed outside the store's entrance, strategically situated to draw passersby inside like the scent of freshly baked bread into a bakery.
The Store
Once I walk in to the store itself, I feel as though I've stepped back in time—almost like I'm walking into the Palace of Versailles itself. I'm mesmerized by the deep red flooring, the elegant mirrored walls, and the rich gold accents. Throughout the shop, I'm treated to antique decorative pieces from all over the world. It honestly feels like a museum, but one that treats the nose as well as the eyes.
The Cire Trudon staff is always so kind and attentive—they really do make me feel like a queen every time I visit! They never cease to impress me with their knowledge of Cire Trudon's rich history and the nuances of each individual candle. A huge thank you to the New York team for taking the time to meet with me and sharing Cire Trudon's story and inspirations. They truly offer an experience that is not to be missed!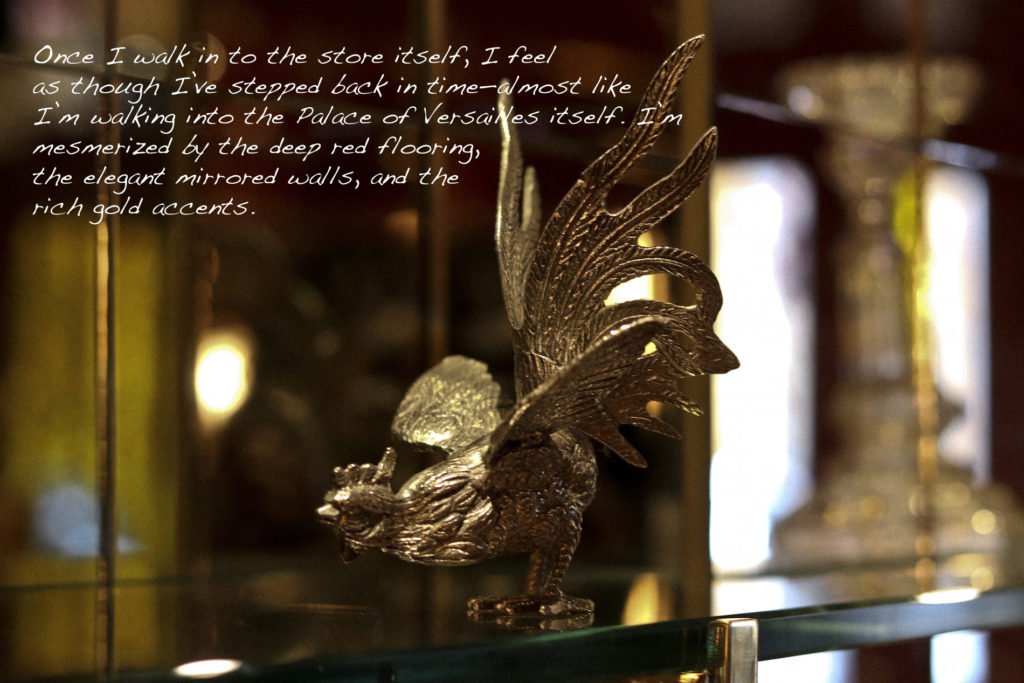 The next time you visit NYC, be sure to stop by the Cire Trudon store to take in their exquisite fragrances and pick up a candle (or four!) and some scented matches, all while enjoying being transported back to the decadent world of Marie Antoinette.